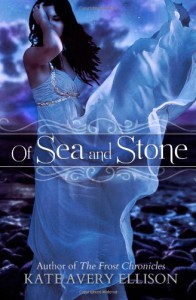 I have never read a story like this one before. The Village on the Rocks is above land but most in the village do not know about an entire civiliztion under the water. Aemi, a servant, is kidnapped from her above land home and forced on to a ship with Nol, a childhood enemy of the upper class. Though they have never been friendly, they are all they have left. A soldier on the vessel saves them from execution and makes them promise to not mention where they are from. Both end up on Celestrus, in the same household as servants. The master is kind and his daughter befriends Aemi, but Aemi and Nol want to return to their home.

The master is trying to secure peace but someone is trying to blame problems on the Dron, enemies of the Itlanteans for a thousand years. When Celustrus is attacked, and many are killed, it is up to Aemi and the master to uncover the truth.

Nol is an intriguing character. For much of the book you are wondering if he is Aemi's friend, foe, or something else. The life giving kiss of breath he gives her as he pushes her to the surface is both sweet and sad at the same time. It reminded me of Titanic when Jack saves Rose. The last forty pages had my stomach in knots and as soon as I finished I put the next book in the series on my to read list.